How can FIU inspire its students to broaden their perspectives by discovering the world outside of Miami – say, in Italy? Recent graduate Amelia Raudales '22 and student Michelle Puentes have some ideas.
The two were recently given a week-long trip to Genoa, Italy by FIU Global learn about the rich culture and history of the city; meet with local university administrators, city officials and business leaders; and identify opportunities for FIU students who may be interested in study or internship abroad.
FIU Global leads the university's campus internationalization efforts and works closely with internal and external constituents to advance the institution's impact in promoting international and cross-cultural understanding.
During their exploratory mission, Puentes, a double major in art and psychology, and Raudales, who holds a bachelor's degree in international relations, were encouraged to collect observations on the city and its population – through the eyes of the students – who will inform the future of FIU Global awareness campaigns and partnerships in the city.
"Genoa is a fantastic city with great people. Living there will change the lives of students. Amelia and Michelle provide a unique perspective on the city that will help FIU encourage students to come here and experience what it has to offer," said Matthew Rice, director of the FIU Global Center in Italy, who lives in Genoa for 20 years and spent the last 18 years. years helping CRF identify mutually beneficial opportunities and build relationships across the city.
Rice said CRF has forged links across Genoa that have the potential to benefit students immensely, especially with the University of Genoa. The FIU is also resuming discussions with the Genoa Chamber of Commerce and with Genoese industries such as hospitality and tourism. These could open up future opportunities for dual degree programs and academic certificates, faculty or student exchange programs, long-term student internships abroad, and more. A thriving CRF-Genoa program could also strengthen the bond between Genoa and Miami industries and promote a greater sense of cultural understanding among the cities' populations.
Puentes and Raudales were selected for the trip to Genoa from a pool of applicants who submitted written proposals demonstrating their open-mindedness, cultural sensitivity, communication skills and general opinions about traveling and studying at the foreign.
While in Genoa, Raudales and Puentes served as CRF student ambassadors, attending several meetings with local leaders. In one such meeting with the Costa Crociere Foundation and Secretary General Davide Triacca, they discussed the potential for student internships as cruise operations resume in the wake of COVID-19.
At the University of Genoa, they met with its president, Federico Delfino, and other university leaders as well as US consular officer Anna Maria Saiano to discuss potential collaborations with the CRF, such as exchanges of professors and students, joint research projects, etc.
They also met with Genoa City Mayor Marco Bucci and City Councilor for Culture and Education Barbara Grosso to explore how local government can support opportunities for international education programs.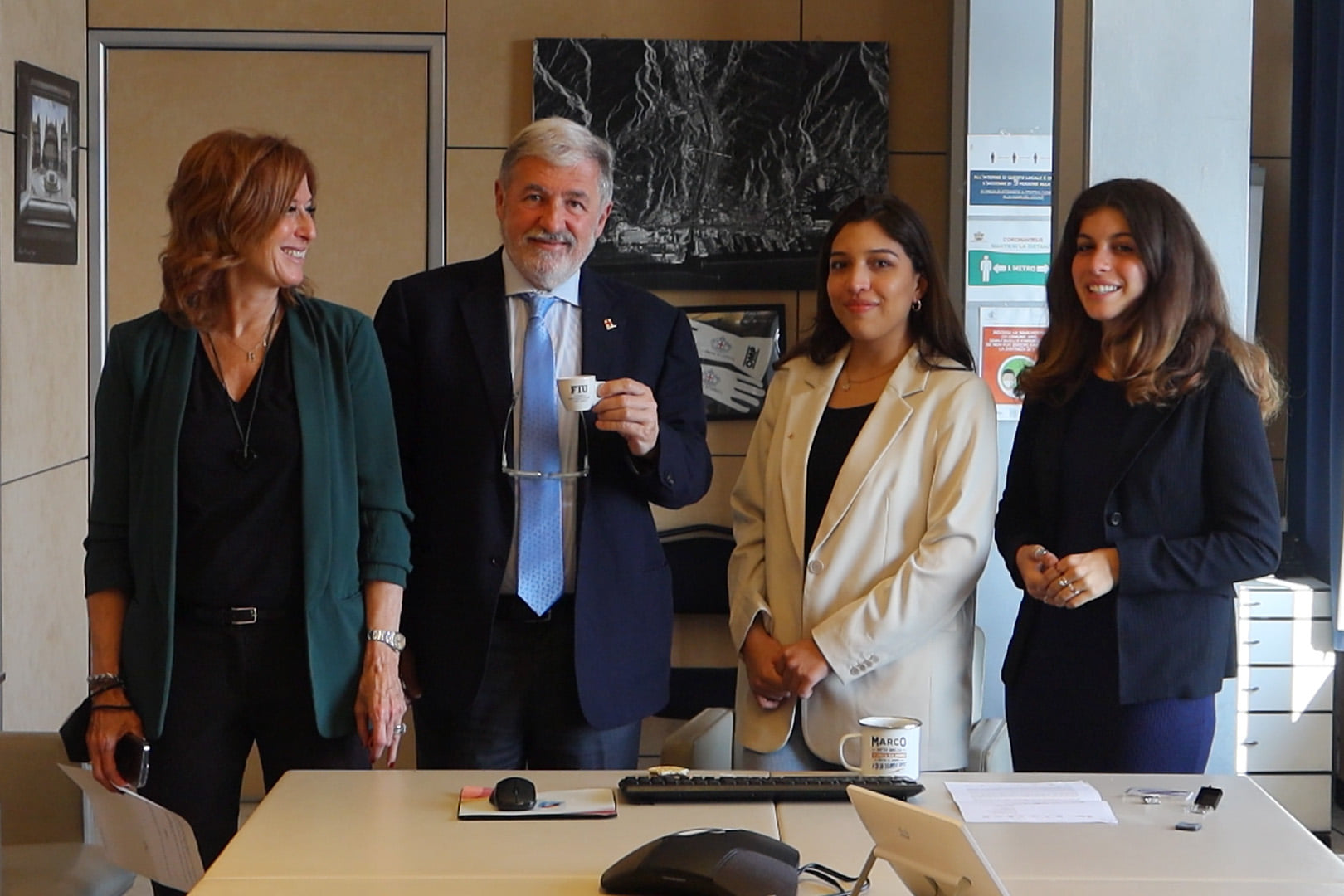 Alongside their ambassador itinerary, Raudales and Puentes have had plenty of time to explore. They visited The Wolfsoniana, an affiliate of CRF and sister institution of The Wolfsonian—FIU museum, library and research center in Miami Beach; visited the Ligurian coast and historic sites, including the Palazzi dei Rolli (a UNESCO World Heritage Site) and the monumental cemetery of Staglieno; attended the Euroflora International Flower Show; and learned about the city's public transportation system.
In his written observations after the trip, Puentes noted that students would be interested in Genoa's many outdoor attractions, including hiking and visiting nearby fishing villages or historical sites. She suggested that CRF could emphasize the similarities between the Miami and Genoa coastlines to make students feel more comfortable traveling between the two cities. She also pointed out that the city is only a few hours from several major Italian cities, including Milan, Turin and Florence, which would make exciting day trips for students studying abroad.
"This place has it all: the coast, the mountains, the valleys, the fields and the atmosphere of a big city. Social life is erupting in this city with hundreds of people walking the streets during the day and in squares at night," Puentes wrote in his report.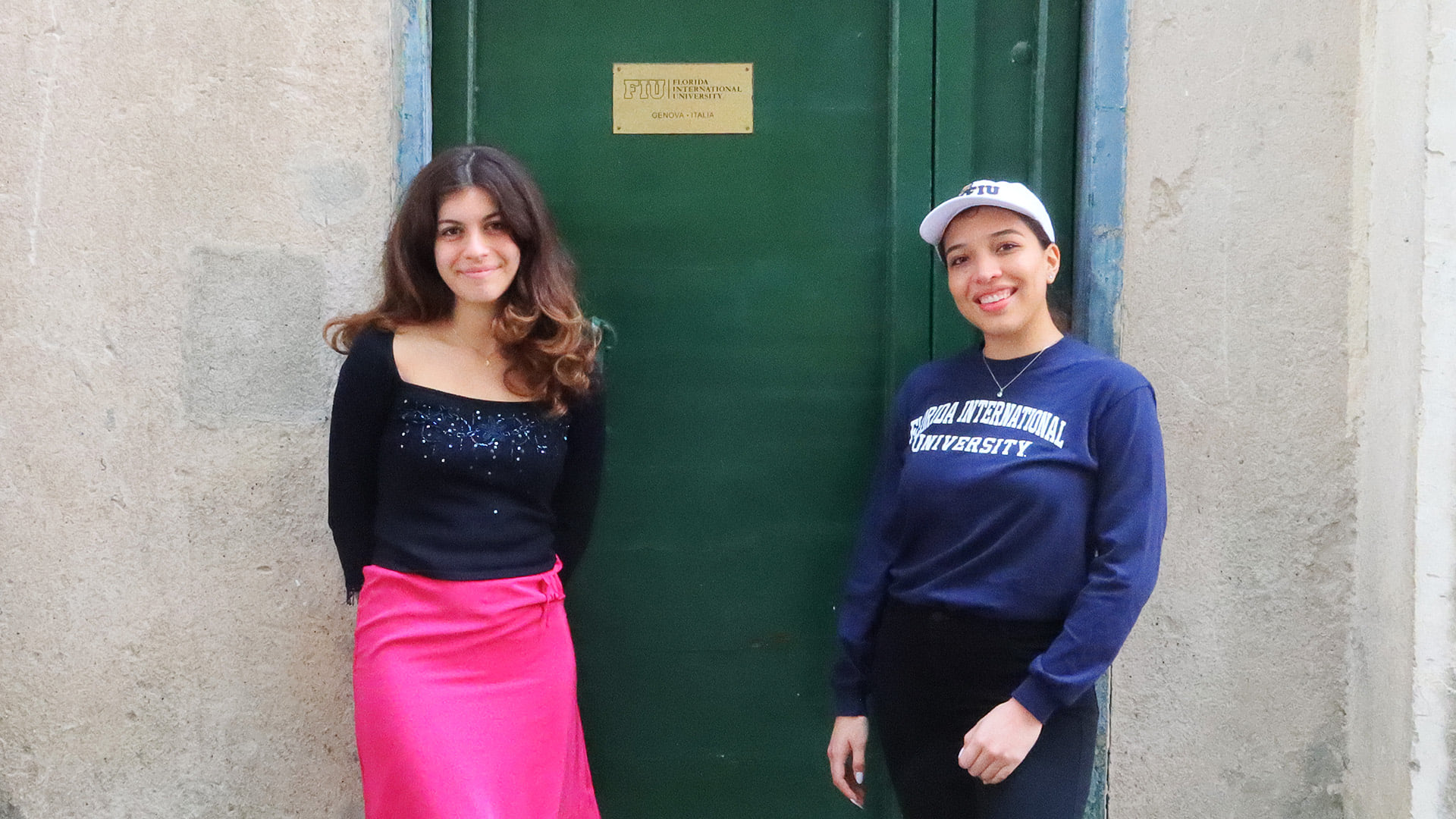 Both Raudales and Puentes noted that the city's affordable restaurants and access to transportation would also appeal to students. Their ideas to convince CRF students to study or do an internship abroad in Genoa include increasing the visibility of the CRF-Genoa program on social media, especially on Instagram, and using social media to showcase all that Genoa has to offer to CRF students. They also suggested that CRF foster more partnerships between CRF departments and the University of Genoa, which could reach a more diverse group of students who might be interested.
"What stood out to me the most about this visit was how livable Genoa is for FIU students after a week-long experience…there are hundreds of things to do in Genoa during his spare time," Raudales wrote in his report. "Citizens are friendly and proud of their city, it's a historic and architecturally beautiful place, and nature is everywhere you go. Genoa is the ideal place for students, teachers, families and solo travelers.
Puentes said his experience in Genoa was "life-changing".
"[It was] the one I will never forget. It was my first time to the other side of the world, and seeing in person the beautiful sights, narrow streets and vibrant colors that everyone was describing was a dream come true.