NEW | FEATURES | PREVIEWS | EVENTS
By Spotlight Central, Photos by Love Imagery
originally published: 07/25/2022
The weather forecast may have predicted rain, but that didn't stop music lovers of all ages from streaming onto the beach in Seaside Heights, NJ this Saturday, July 16, 2022 evening for a Seaside Heights Live Railroad Earth concert. Formed in 2001, Railroad Earth is a New Jersey-based musical ensemble that employs a distinctive blend of progressive bluegrass, folk, country, rock, jazz and American music.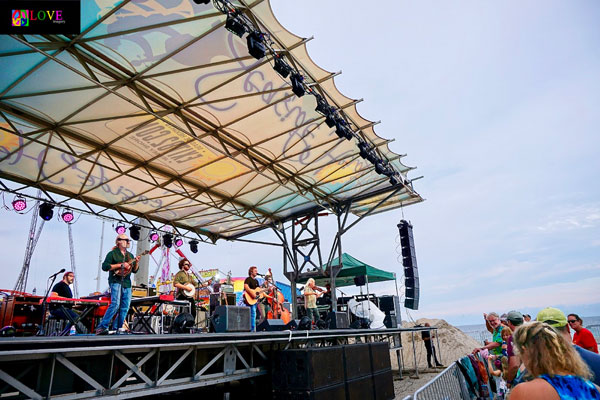 Before the start of tonight's show, we chat with two viewers who are unfamiliar with Railroad Earth and their music. Amy from The Brick explains: "A friend gave us tickets for the show tonight. We've seen bluegrass guitarist Billy Strings in concert and he's just phenomenal, so we're hoping Railroad Earth is a bit similar," adding, "We're not sure what to expect, but it's is great fun. go see a concert right on the beach."
Amy's friend Jaimie from Allenwood agrees, noting, "It's a really cool setting for a gig," before joking, "If nothing else, it's a great night out. been away from my husband and my children."
We also chat with two longtime Railroad Earth fans. Explains Tom from Maryland, "A group of us have all been friends since college and we always get together to go to concerts. We've seen Railroad Earth in New Jersey, Maryland and Virginia. It's a great group of musicians who have a lot of fun when they jam.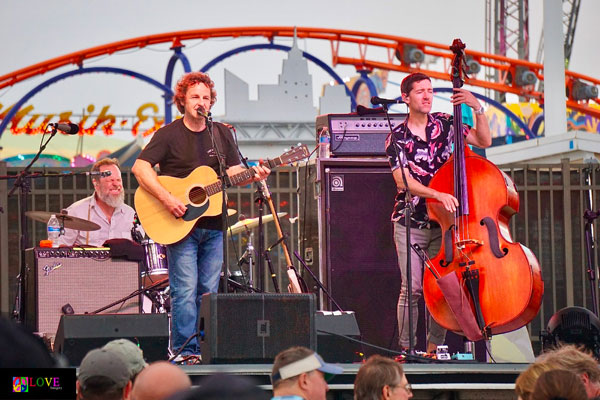 Tom's friend Dale from North Carolina agrees, grateful: "I've been a fan of Railroad Earth for over ten years and one thing I can say is that they really love what they do. 'they do. They're a great jamming band, their music is upbeat – and I even named my boat after one of their songs, "Long Way to Go".
Advertise with New Jersey Stage for $50-$100 per month, click here for more info
---
Following the announcement, "Debuting in Seaside Heights, here comes Railroad Earth!" is done, audience members rise, clap and applaud as vocalist/guitarist Todd Sheaffer, violinist/guitarist Tim Carbone, mandolinist John Skehan, bassist Andrew Altman, drummer Carey Harmon, keyboardist Matt Slocum and banjoist/guitarist/guitarist at Mike Robinson pedals take the stage.
Audience members dance to the joyous sounds of "Cold Water" as Todd Sheaffer sings, "I woke up this morning to cold water, cold water, cold water," s accompanying on acoustic guitar over this rhythmic country tune.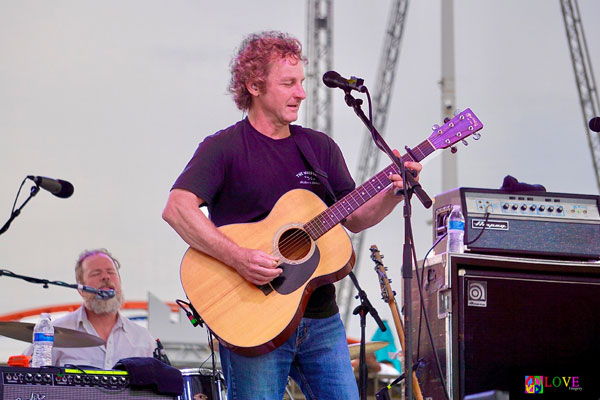 Bassist Andrew Altman rocks his instrument up and down and John Skehan strums his mandolin as the band improvises to cheers and applause.
The band slows things down for "Chasin' a Rainbow". Sheaffer channels Bob Dylan with his lead vocal, crooning "Just chasin' a rainbow/Far across the sky" over this rhythmic number with a Zydeco twist. Audience members move to the beat of this foot tap as the tempo picks up. Mike Robinson plays his banjo while Andrew Altman's bass resonates as the melody progresses.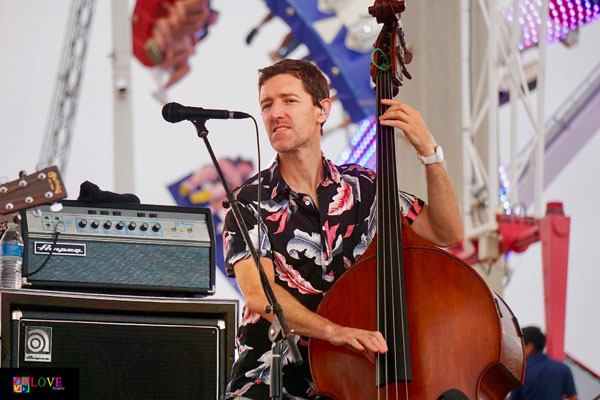 Spectators love to dance in the sand, and the rides behind the stage seem to fly in time to the music of "Drag Him Down," a lightning-fast bluegrass number that has Tim Carbone playing fast and furious.
John Skehan's mandolin shimmers to the driving beat of country rock's "When the Sun Gets in Your Blood." Sheaffer sings "When the sun gets in your blood/When the sand in the hourglass turned to mud/Then people everywhere will be looking for all your love", as families on the beach have fun blowing bubbles on the music.
The crowd cheers and Sheaffer responds, "Thank you, folks. It's nice to be in New Jersey! before the band launched into "Came Up Smiling". Sheaffer sings, "Little Johnny started running / Down by the water / He dived into the wild river / He dived off a rocky ledge," on this upbeat story song. Audience members sing happily to the chorus "He came up smiling" before Matt Slocum's whirling organ fills the air and mandolin, acoustic guitar, bass and fiddle improvise to this two-part beat .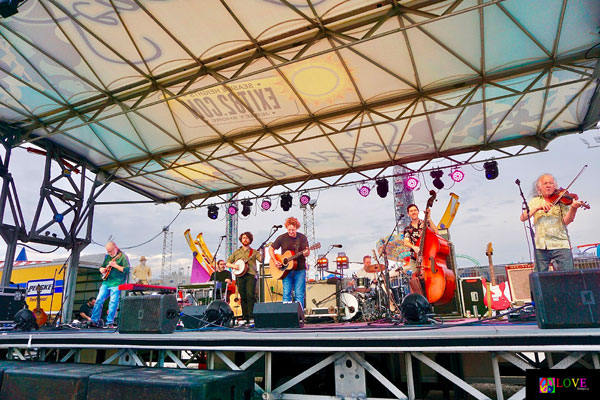 Robinson's pedal steel guitar is featured on the folk rocker "For Love", before the band breaks into the folksy "Day on the Sand". As the band performs the lyrics of the song "The Wind and the Water/The Sun and the Air/A Day of Redemption/A Day on the Sand", the sun changes color in the sky and red lights and oranges begin to light up the scene.
Percussionist Carey Harmon begins the band's next number, "Where Songs Begin," laying down a solid funk-rock beat on drums.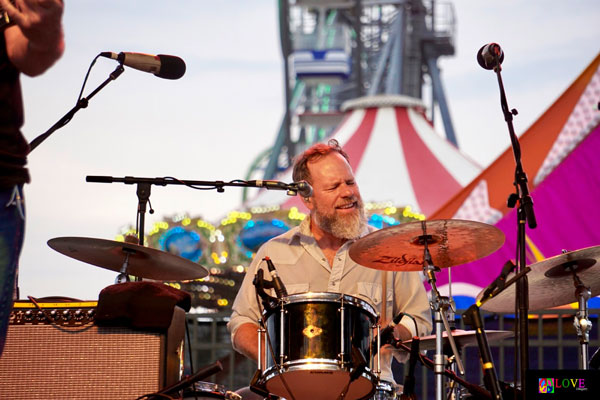 Andrew Altman joins in playing a funky low bassline. Mike Robinson's pedal steel guitar adds his vocals and acoustic guitars strum behind Sheaffer's vocals on this mystical sounding track. Tim Carbone's violin cries and John Skehan plays his mandolin on this country rock jam.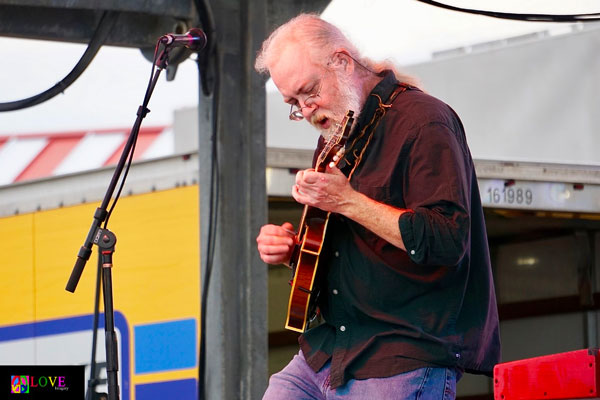 Audience members rock their partners on the country-style "Head" which features an extended jam with mandolin, banjo, keyboard, acoustic guitar, double bass and screaming violin improvisations that induce hoots, howls , cheers, whistles and applause from the cheering crowd on the beach.
Advertise with New Jersey Stage for $50-$100 per month, click here for more info
---
As the band takes a break before continuing with an expanded selection of tracks, including "Lordy, Lordy", "Mission Man", "The Forecast", "Captain Nowhere", "Fisherman's Blues", "Dance Around Molly", "Dandelion Wine," "The Great Divide," "Farewell to Isinglass," and "Seven Story Mountain," plus encores of "Comes a Time" and "It's So Good," we chat with several viewers who share their thoughts on tonight's Railroad Earth Experience.
Notes Railroad Earth neophyte Amy, who we spoke to before the show, "I love them – they're fun!" explaining, "It's good music to vibe." Her friend, Jaimie, comments, "I particularly like the banjo and the fiddle, but I like all the musicians," before noting, "I would like to come back for another show.
Dave from Toms River is also new to the Railroad Earth experience and reveals, "I've never seen Railroad Earth before, but I really enjoyed listening to mandolin, banjo, pedal steel guitar and violin – more, for me, the main role. singer has the perfect voice for this kind of music.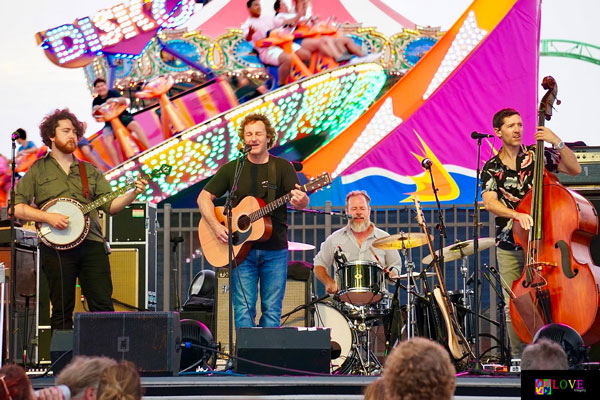 Maureen from Toms River agrees, adding: "I love them too! They're really good, and I especially like how their music appeals to families here on the beach.
Notes Tom from Ortley Beach: "I listen to Railroad Earth on Sirius XM radio. I'm particularly impressed with the band's overall sound, which sounds really crisp and clear – and that outdoor venue on the beach is pretty cool! Christine from Ortley Beach agrees, saying, "I've never heard of Railroad Earth, but they're really good! I love all the acoustic instruments and I think it's so cool to see all the rides behind them on stage," before noting, "Love it so much, planning to come back here to see America on the 6th august.
Finally, we chat with Kyle from San Jose, California, who explains, "I'm here on vacation in Seaside Heights and tonight I stumbled across Railroad Earth. This is my favorite band of all time! I've seen them many times and love them." Explaining, "Their musicianship is spot on, and they have a great 'intimate' vibe," Kyle recalled, "I grew up on bluegrass music, but Railroad Earth is eclectic and they play all different genres – I wouldn't even try to catalog their sound, but what they perform is always organic", before concluding: "For me, it's just pure feel-good music !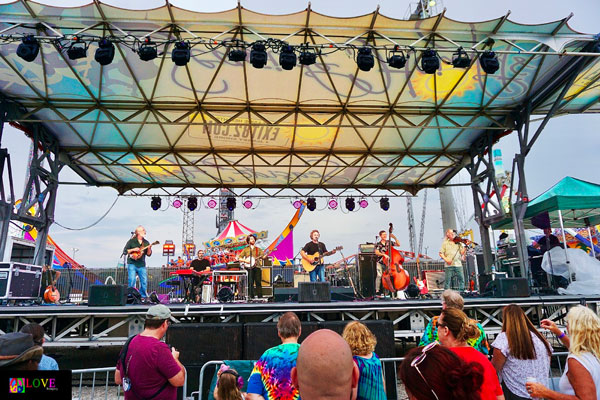 For information on upcoming Seaside Heights Live concerts on the beach – including America on August 6, Greensky Bluegrass on August 13, George Benson on August 14 and Seaside Summer Freestyle Fest on August 17 – please click seaheightslive.com.
For more information on upcoming free shows at Seaside Heights – including an AC/DC tribute by Dirty Deeds on July 28, October Rose on August 1, a Van Morrison tribute by Moondance on August 4, and Soul Shine, An Allman Brothers Experience Concert on August 25 — please click exit82.com.
Photos by Love Imagery
spotlight center. Your source for Jersey entertainment news and reviews
love pictures Art photography. everything you need. peace/love/flower/power