Last name: Amanda Hargrove
Position: Associate Professor of Chemistry
Years at Duke: 8
What she does at Duke: In her role as a researcher, Amanda Hargrove, a 2020 Alfred P. Sloan Research FellowAnd one American Chemical Society 2022 Rising Star Award Winnerruns a lab that studies a specific type of RNA molecule and its potential role in breakthrough therapies.
In every cell, ribonucleic acid, or RNA, plays a vital role in carrying genetic information and directing protein formation. But not all RNA molecules do this. RNA molecules not involved in these processes – what scientists call "non-coding RNA" – were once thought to be fairly insignificant. But in recent years, researchers have discovered that these molecules are involved in the process that allows cancer and viruses to spread.
Hargrove's lab is studying ways to disrupt the function of this type of RNA and, potentially, find therapies that can better fight cancer and protect against viruses, like the agent behind hand-foot-mouth disease and COVID-19.
"The idea is that maybe the reason we don't have as many cancer drugs as we would like is that we've been looking for the wrong class of molecules," Hargrove said.
In addition to research, Hargrove serves as chair of her department's Diversity, Inclusion and Community Committee and serves as chief editor of the magazine Medical Research Reviews. She also teaches courses, including undergraduate and graduate courses on organic chemistry and chemical biology, as well as a seminar for first-year students intended to give them an early insight into authentic scientific research in allowing them to develop and test their own hypotheses.
"You can almost see their gears working," Hargrove said of his students. "It's so fun to watch."
What she likes about Duke: Hargrove appreciates that the brilliant minds at Duke are not bound by their academic disciplines. She said collaboration has been an integral part of her Duke experience because faculty are curious and supportive of each other. She remembers feeling this in her early days at Duke when colleagues introduced her to various other faculty members they predicted she would work with at some point.
Hargrove said that collaborative energy has resulted in projects that have seen her team up with colleagues at the Duke Cancer Institute, the Department of Biochemistry and elsewhere.
"I could tell from the start that, at Duke, community mattered," Hargrove said.
When she is not working, she likes: Hargrove enjoys spending time with her 13-year-old son and 8-year-old daughter. Watching them practice taekwondo or indulging in their recent obsession with baking shows, she finds great joy in spending time with her children.
"One of the benefits of having kids and a family is that it gives you an identity that's not tied to your job," Hargrove said. "If something happens in your job, you have this other role that is more important. This makes it easier to manage the ups and downs of your work.
Best advice received: Hargrove reminds scientific colleague Laura Mahal telling him that networking is more than making contacts. It's creating a group of trust invested in your success. Mahal said an effective way to build this group is to ask for help and act on the advice.
"Once people give you advice and see you follow it, they're invested in your success because they helped make it happen," Hargrove said. "It's a great way to build a network that stays with you and supports you."
Something most people don't know about her: When Hargrove attended Trinity University in San Antonio, Texas, she did so with the help of a rodeo scholarship. Although the Houston native grew up in rural environments, she never participated in any rodeo-related activities. Instead, his scholarship was an academic honor awarded by the Houston Livestock Show and Rodeowhich, in addition to being a Texas farming tradition, is also a major supporter of the state's top students.
"I like telling people about it, but it would have made for a cooler story if I had it for herding cattle or riding horses," Hargrove said.
Most memorable day at work: In November 2019, Hargrove was working at her desk at the French Center for Family Sciences when she received a text from Blanton Tolbert, professor of chemistry at Case Western Reserve University. The two had been working on a project to see if a small molecule could bind to the RNA of the EV71 virus to inhibit transmission and possibly kill the virus. Tolbert had just got his hands on data that showed the idea worked.
"He didn't wait for an email, he just sent me a picture of the result and said, 'Did you see that? '" Hargrove said. "It was so exciting. I actually printed this painting and carried it around in my backpack for a year.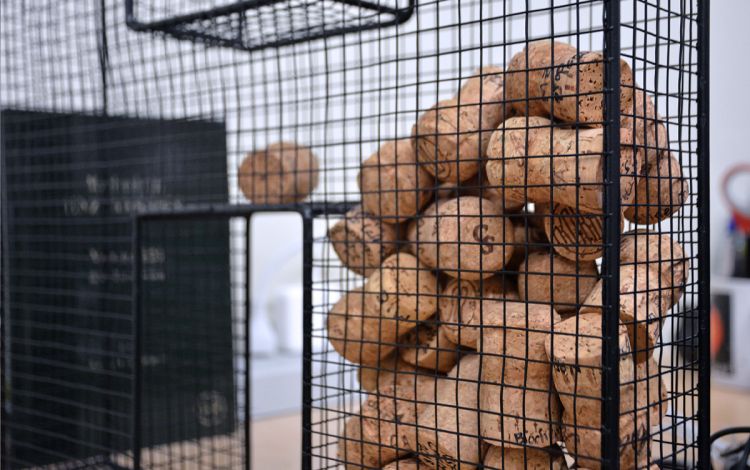 Something unique in his workspace: On Hargrove's desk, there is a large H-shaped metal basket that is slowly filling with champagne corks. Each cork has a name and a date. Corks come from bottles opened to celebrate each successful paper and doctorate. advocacy for the students Hargrove works with.
"Mentoring students and post-docs is one of my favorite parts of the job," Hargrove said. "When something big happens for them, that's just the best."
Lesson learned during the pandemic: Hargrove gained a new appreciation for the importance of a university putting the needs of its employees first. While research and teaching assignments are essential, the pandemic has underscored the importance of ensuring that the students, faculty, and staff at the heart of these assignments are healthy and safe.
"It was really impressive to me to see how many people could come together, the Duke community in particular," Hargrove said. "I felt really grateful to be in this community. I don't think there was a better place to be a faculty member during something like this.
Is there a colleague at Duke who has intriguing work or who goes above and beyond to make a difference? Nominate that person for the Blue Devil of the Week.